Use case overview
This use case demonstrates how to import identities into ForgeRock Identity Cloud from a CSV file. This is useful when you want to add a large number of identities to a role or assignment in a single operation.
Before you can import the identities, you'll need to prepare a CSV file containing the identity profiles in the correct format.
Steps to achieve this use case
Prepare the CSV file
Prepare a CSV file with the identity profiles you want to import. The file must comply with this CSV template example:
"userName","givenName","sn","mail","description","accountStatus","telephoneNumber","postalAddress","city","postalCode","country","stateProvince",
"preferences/custom_loyalty","preferences/custom_security","preferences/marketing","preferences/updates"

For information on generating the CSV template file, see Import bulk data.
Other requirements for a successful CSV file import include:
Use commas as separators. Any other separator may cause errors.
Include the required attributes from the managed object schema in the CSV file.
Leave optional properties blank in the CSV file.
An example Excel file using the CSV file template will look similar to this: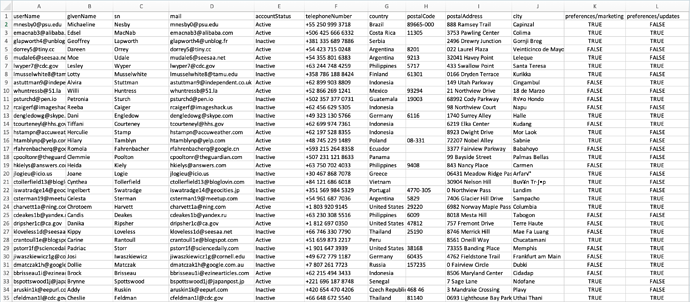 Note that there are separate columns for "preferences/marketing" and "preferences/updates", which are set using true and false values. These values determine, per record, whether or not the associated preference will be enabled during the bulk import.
NOTE: Imported accounts will require self-service password reset or pass-through authentication.
Bulk import identities from the CSV file
Sign in to the Identity Cloud admin UI using your admin tenant URL, in the format https://<tenant-name>/am/XUI/?realm=/#/.

Go to Identities > Import.

Click New Import.

Enter the name of the CSV file to upload, and choose a property Identity Cloud will use to match an entry in the CSV file to an identity profile. In this case, we're using UserName.

Click Next.

When the import is complete, Identity Cloud displays the number of new, updated, unchanged, and failed imports.

Click Done.
View the imported identities
In the Identity Cloud admin UI, go to Manage > Identities > Alpha realm - Users.

The newly imported identities appear in the list.
Additional resources
Documentation:
Training videos: